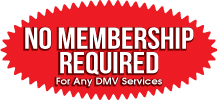 Changing ownership of any vehicle requires a transfer of title in California. To transfer a title:
Seller must complete the appropriate sections on the title.
Vehicle must pass a smog check, unless exempt.
Buyer must provide the ownership documents to the CA DMV.
Buyer pays the vehicle title transfer fee and taxes within 30 days.
please bring the following:
Pink slip.
(If it's lost you can bring the registration or the renewal slip)
Smog Check
Proof of valid Insurance
Copy of ID
Fees Due (inquire within the office) Cash | Check | Card {there is a 3% tranaction rate applied to all card transactions}