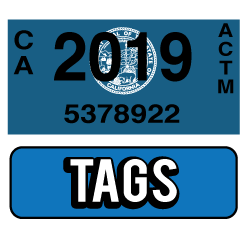 We can provide "Registration Renewal" for your vehicles at one of our locations, phone, or or online form. see the form on the left of this page to get the price and information on your registration. You only need the last 6 of the vin and Lic. Plate Number. After we get your information we will contact you letting you know what is the total due.
To expedite the process of your renewals, please provide the following:
Smog Check (If required)
Proof of valid Insurance (need insurance?)
Renewal Slip (or previous registration)
Vehicle Vin
Lic Plate Number
WE Provide to you
New Stickers over the counter
New Stickers by mail
local delivery of your new stickers
No membership fees, and you do not need to have insurance thru us nether, we provide registration renewal as a separate service.
No need to go to the DMV we can get your registration renewal complete within 15min. no long lines.  and you get your stickers same day*
Purchased a Used Vehicle?
Need to register and transfer it over to your name? Need to transfer ownership? How much time do you have to transfer ownership before you get penalized?
Get your Title Transfer here